The Church of the SubGenius!

The world's only admittedly for-profit, non-tax-deductible religion!
What the hell do you think you're doing???
What you really want are the official, Dobbs-blessed SubGenius pages at UNC.
The Church
The Church of the SubGenius, "Bob"'s instrument on this planet, lives in PO Box in Dallas TX. If you send them some money, they will send you literature that could turn your life around!

The Church of the SubGenius
PO Box 140306
Dallas TX

Our leader: J. R. "" Dobbs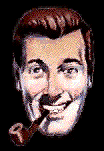 The mailing list:
This list is for members and fellow travellers of The Church of the SubGenius, an alternative religion. We discuss many new mental techniques including breakthinking, trance induction, communion with spirits, excremeditation, trepanning, short-duration personal saviours, the attainment of Slack, and many more. Only those seriously interested in brain modification need apply. Neither the Church, the moderator, or J. R. "Bob" Dobbs will be held responsible for any deleterious side effects of SubGenius list transmissions.
The list has recently moved to a new home and has a new Immoderator. For information on how to join, send a message containing the line info subgenius to majordomo@armchair.mb.ca.
The mailing list archives are a rich trove of spoutings by the Network Clench. Check out the all-new HTML-ized archives produced by the Reverend i.d.
All Slack,
Further sources of slack:
---
Michael Travers